Overview
As a client-centric alliance of international employment law firms, working with some of the world's leading organizations, L&E Global understands the importance of delivering excellent service. L&E Global's seamless management supports the sustainable delivery of consistent, high-quality services in every jurisdiction.
Using L&E Global firms, employers receive high value services at competitive rates across the globe, from dedicated lawyers who work hand-in-hand with clients and are committed to establishing long-term business relationships.
L&E Global aligning forces help Jackson Lewis in supporting clients on complex cross-border labor and employment matters throughout the world.
Jackson Lewis is a founding member of L&E Global, a global alliance of premier employer's counsel firms providing customized, business-focused advice on employment law matters. Collectively, L&E Global member firms have more than 1,500 legal professionals across six continents, advising clients on both global and local matters. L&E Global members focus on understanding their clients, their sectors and their markets.
Board Chairman of L&E Global
Honors & Recognitions
Chambers Global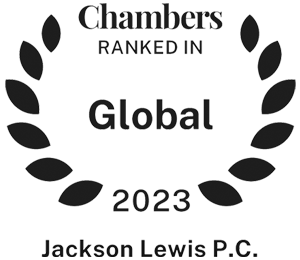 Leading Law Firm Network