Description
Workplace issues increasingly cross international borders. The separation between domestic and international matters is largely artificial in a global market.
Cross-border labor and employment matters arise in many different business contexts and are often intertwined with issues of compliance, global mobility, data protection, immigration, compensation and benefits and corporate transactions. Our attorneys provide legal advice in a global context.
Our reach
Included in the 2020 Global 100 list of law firms, we have a well-established reputation for counseling and defending multinational corporations and emerging businesses on every type of workplace law matter. We understand what adds value for our clients because we have stood in their shoes. Our attorneys, many of whom have served as in-house counsel, have a wide range of experience managing international employment issues in more than 100 countries. Jackson Lewis and L&E Global members are committed to cost effective, creative and flexible fee structures which provide the service level of a global law firm.
The firm is a founding member of L&E Global, a top-rated global alliance comprised of labor and employment law boutiques and labor/employment law departments of leading firms throughout the world.
U.S. operations
With attorneys in major cities nationwide, we are well positioned to work with you on these issues:
Compliance with Federal, State and Local Employment Law
Securing Visas and Employment Authorizations for Foreign Nationals
Employing U.S. Citizens Abroad
Due Diligence on the Employment Implications of Mergers, Acquisitions, Closings and Other Business Transactions in the U.S.
Multinational entities operating in the U.S. face a challenging array of laws and regulations governing the rights and responsibilities of employers and workers.
International operations
Global Restructurings, Plant Closings and Collective Redundancies
Drafting and Global Implementation of Employee Codes of Conduct, Policies and Work Rules
Global Labor Relations and Works Council (Including European Works Council) Matters
Data Protection
Expatriate and Global Mobility Issues Including Corporate Compliance, Immigration and Benefits
Obtaining Employment-Based Temporary Work Visas and Permanent Resident Status
Advising on Cross-Border or International Executive Separations
Cross-Border Litigation and Arbitration
Global Compensation and Benefit Matters
Advising on Labor/Employment Issues Associated with Global M&A or Other Transactions
Conducting or Managing Internal Compliance Investigations
Restrictive Covenants and Employment Agreements
Honors & accolades
Chambers Global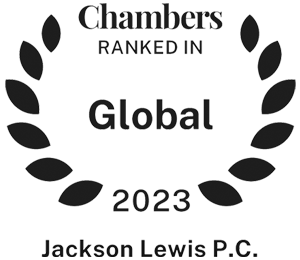 Band 1 - The Elite in Chambers Global