Leadership Team
To realize the impact and myriad of benefits that a diverse and inclusive work environment brings, the firm has leadership at the firm's highest levels to ensure that our commitment to a culture of respect, belonging and inclusivity remains central to firm function, our people, and our work.
Attorney Resource Groups
We are proud to offer seven Attorney Resource Groups (ARGs). These ARGs provide opportunities to share lived experiences, create mentoring relationships, enhance business and client development networks, and develop programming across all firm offices.
African American Attorney Resource Group

Asian American Attorney Resource Group

Hispanic Attorney Resource Group

Out Professionals and Allies in Law (OPAL)

Practicing and Parenting

Veterans Attorney Resource Group

Women's Interest Network
Attorneys at Jackson Lewis, regardless of identity or background, can join and participate in any ARG, and we are always exploring opportunities to create additional ARGs.
Honors & Accolades
Seramount

Best Law Firms for Women and Diversity (2023; based on recruitment, retention, promotion and development best practices)
Law360
No.2
Glass Ceiling Report (2022; women attorneys in equity partnerships)
Mansfield Certified Plus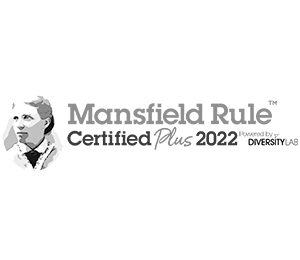 Third consecutive year exceeding baseline requirements for advancing women and diverse candidates in leadership positions.
Minority Corporate Counsel Association
96%
Diversity, Equity and Inclusion Scorecard (2022; based on similarly sized firms)
The National Law Journal
#18
The NLJ 500 Women in Law Scorecard (2023)
Law360
#27
Diversity Snapshot report (percentage of minority attorneys)
American Association for Access, Equity and Diversity
AAAED
President's Award Honoree (2022; leadership in and commitment to DEI)
Memberships and Sponsorships
National memberships, sponsorships, and partnerships include:
Association of Law Firm Diversity Professionals
California Minority Counsel Program
CEO Action for Diversity & Inclusion
Charting Your Own Course
Corporate Counsel Women of Color
Diversity & Flexibility Alliance
Hispanic National Bar Association
Institute for Inclusion in the Legal Profession
Law Firm Anti-Racism Alliance
Leadership Council on Legal Diversity
Minority Corporate Counsel Association
National Asian Pacific American Bar Association
National Association of Law Placement
National Association of Women Lawyers
National Bar Association
National Employment Law Council
National LGBTQ+ Bar Association
Seramount (formerly Diversity Best Practices)
South Asian Bar Association of North America
Texas Minority Counsel Program
Jackson Lewis is proud to collaborate with leading industry partners seeking to promote diversity, equity and inclusion in the legal profession.

Strategic Action Plan
Our DEI Strategic Action Plan articulates and identifies steps to continually cultivate and maintain a welcoming and inclusive firmwide community where individual differences are embraced, supported, respected and valued.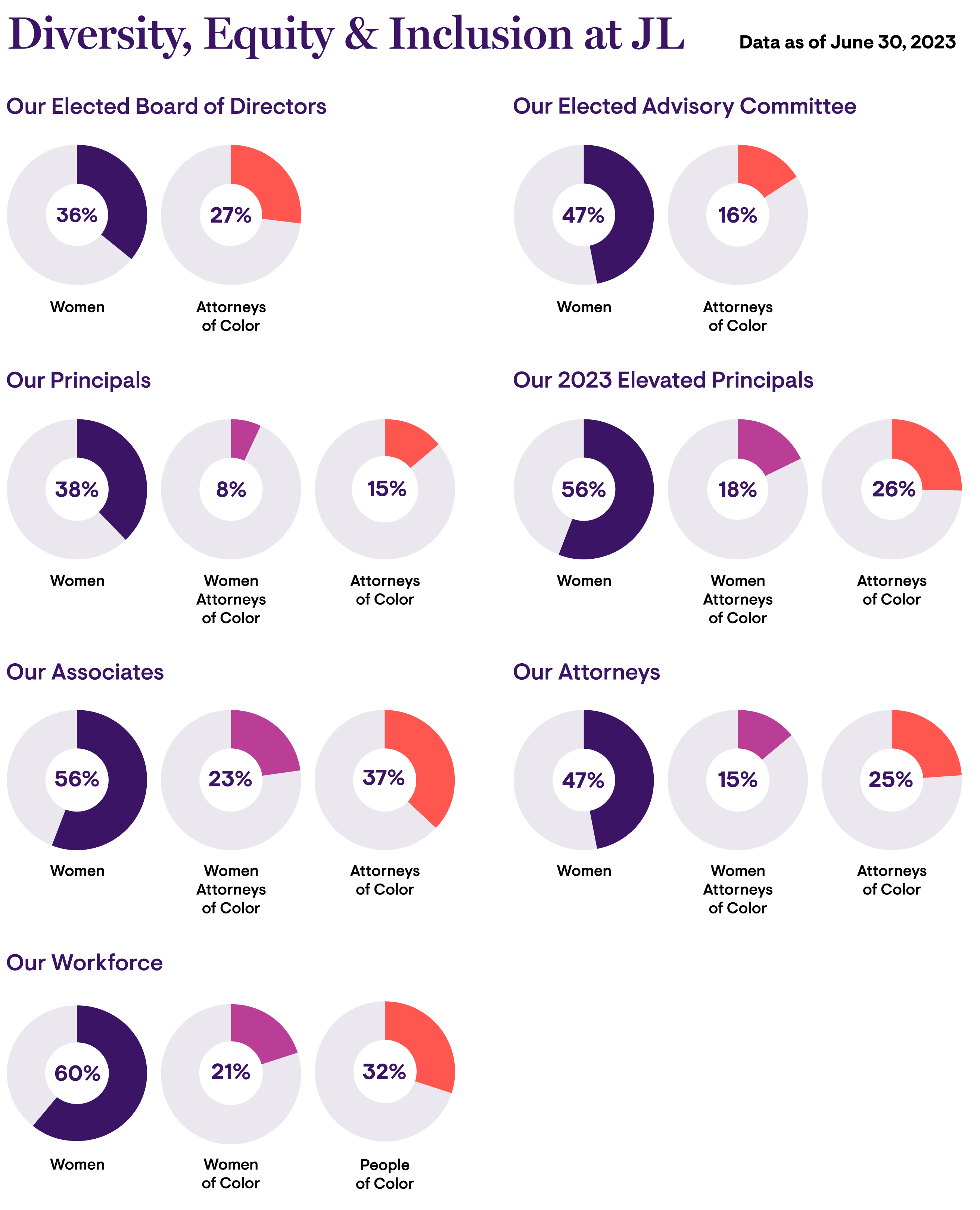 Additional DEI Program Highlights
Expanded Data Collection and DEI Reporting Transparency
We expanded our DEI data collection efforts – voluntary self-identification portals – in our HRIS system to better allow us to track and to include more varied identities. We also revamped our demographic data disclosures, expanded our identity categories, and broadened our reporting processes to provide fuller reporting to clients and industry surveys seeking demographic data. We did so in an effort to promote greater data accuracy and to expand ways for people to share their identities (and be seen how they are).
"Triple P" Inclusivity Campaign
Jackson Lewis launched an initiative allowing all employees to add their pronouns, first and/or last name phonetic pronunciations, and/or a parenthetical name (common name) to their Outlook email signatures. Colloquially referred to as "Triple P," this effort encouraged employees to display their authentic selves to further respect and inclusion among colleagues and clients.
Firm DEI Training and Learning/Development
Jackson Lewis remains committed to fostering continuous training, learning and development as it pertains to our DEI values and focus on inclusive leadership. We are developing specific training programs aimed at leaders to enhance their cultural competency and reduce/eliminate barriers to equity and inclusion.
Mentorship
The firm's formal mentoring program, RISE (Recruit, Integrate, Succeed, and Excel), works to ensure that all attorneys have equitable access to mentorship, development, and advancement opportunities throughout the arc of their legal career.
Elevation Transparency
Jackson Lewis revisited and committed to heightened transparency with respect to our partnership elevation criteria and work to ensure the criteria is readily accessible to all of our lawyers. The firm's elevation criteria for promotion to principal attorney were expanded to provide for greater consideration for those working more flexible schedules or those who were on a leave. In addition to firmwide efforts, several of our ARGs host annual seminars for their members and mentor them further through the elevation process.