Biography
Charles F. Seemann III is Office Managing Principal of the New Orleans, Louisiana office of Jackson Lewis P.C. His practice emphasizes ERISA and employment law, but encompasses a wide variety of litigation and counseling matters as well.
Mr. Seemann's primary practice focus includes the defense of ERISA plans and plan fiduciaries at both public and private companies, multi-employer plans and plan fiduciaries, and financial institutions providing services to ERISA plans. In addition to ERISA, Mr. Seemann has extensive experience in a wide range of employment matters, including stock-option disputes and executive compensation litigation; wage and hour advice and litigation; and private litigation and regulatory investigations in discrimination, hostile-environment and similar matters. Mr. Seemann is admitted to practice in both Louisiana and Texas, but has represented clients in complex and class action matters in numerous jurisdictions, including New York, California, Ohio, Illinois, Pennsylvania, Michigan, Massachusetts, Indiana, Florida, Oklahoma, Georgia, Tennessee, Virginia, Mississippi, and Washington D.C.
Since 2012, Chambers USA has listed Mr. Seemann among the nation's pre-eminent lawyers, noting his "strong reputation" as a "real gentleman" among his peers, as well as remarks that "he thinks outside the box" and "knows everything that's ever happened in a case."
Mr. Seemann's activities include regular speaking and writing engagements around the country, on topics including class-action litigation, ERISA fiduciary litigation and risk management, employment law, and best practices for in-house counsel. He also is active in community and civic affairs and donates his time and professional services to numerous causes. While attending law school, he served as Articles Editor of the Louisiana Law Review.
Honors and Recognitions
New Orleans Pro Bono Project, Distinguished Service Award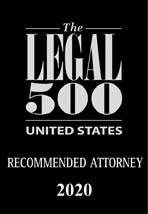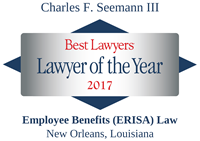 Professional Associations and Activities
Bureau of National Affairs, Pension & Benefits Advisory Board Member (2012-2015)
Louisiana Bar Foundation
Louisiana State Bar Association, Member and Past Chairperson of the Public Service Committee
Pro Bono and Community Involvement
Southern Eye Bank, Board of Directors